Let's find your next home
Where would you like to live?
Let me help you find a home
Thru Lease Option to Purchase Program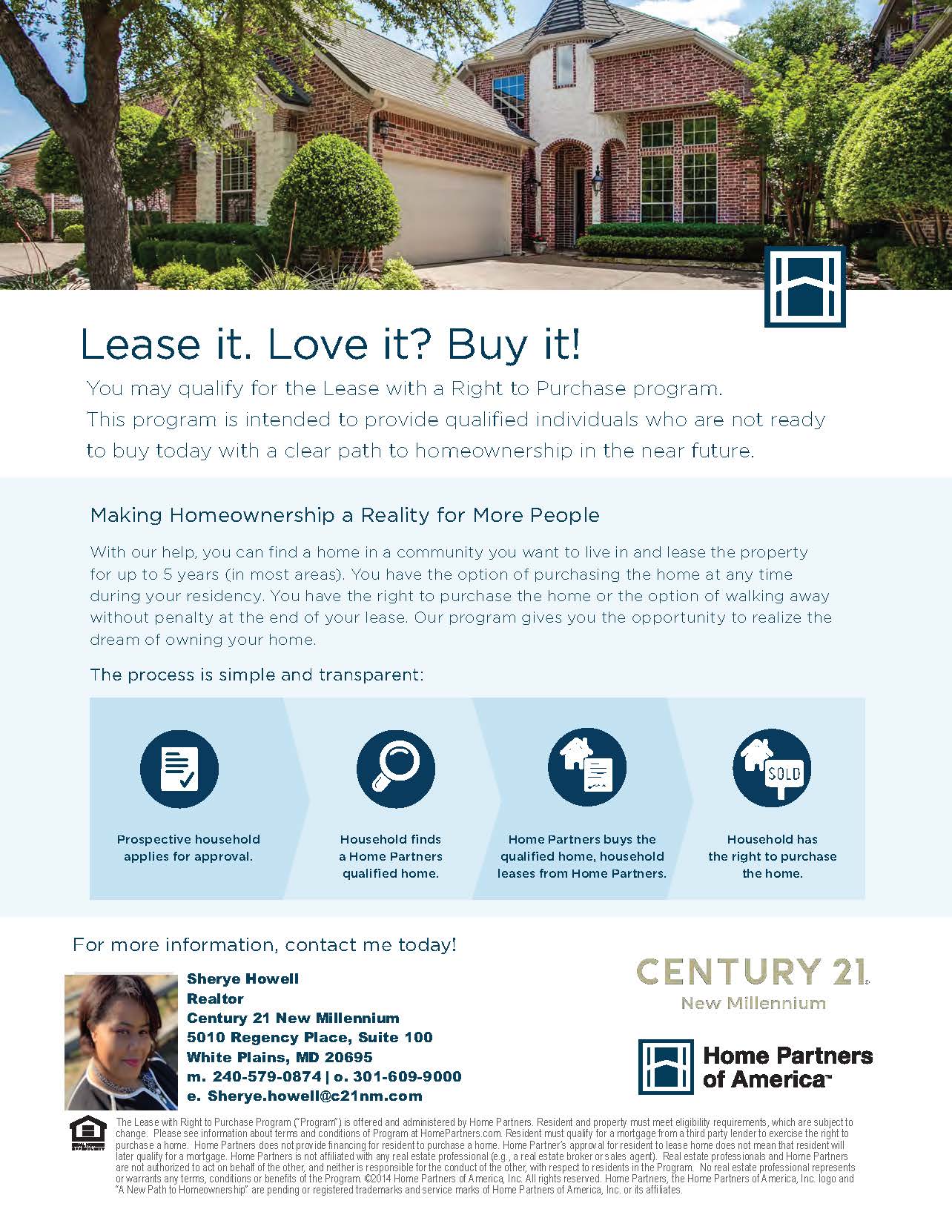 Meet Sherye Howell: Central and Southern Maryland Realtor
A Interior Design/CAD Drafter, business owner for surplus recovery form homeowners,
and Tristar Realty Institution grad, I specialize in the sale of new and existing homes in
Indian Head, Waldorf, La Plata, Bryan's Road, Pomfret, White Plains, Accokeek,
Brandywine, Upper Marlboro, Aquasco, Clinton, Oxon Hill, Suitland, Temple Hills, Upper
Marlboro, Bowie, District Heights, Forestville. Prior to real estate I managed accounts
payables for over 15 years as a government contractor for the military and I am currently
working in a military facility.
Why I'm Different
By utilizing my experience in Interior Design/Cad Drafting, managing accounts payables
for a government contractor, and business owner I am know for serving my clients with
great customer service, high technology for marketing materials, optimizing my clients
time spent in selling or purchasing real estate and negotiating with my client's best
interest. I firmly believe that as a realtor it's my duty to ensure that I represent my client
with the best of my ability, but also to inform them and educate them throughout the
purchasing and selling process. With a well known company to back my continuing
education and support, I am very equipped with the necessary information to keep up
with the market trend and to serve my client with the most up to date information.
Giving Back Is My Main Priority
I am a strong believer in giving back and helping people in my community. My goal is to
help people who have lost their jobs to give them access to housing and get them back
on their feet through a program that I am looking to create in the future. With coaching
and counseling to the people in our community, I believe it's vital to shape our
community to a better and safer place where people do not have to feel they need to
commit any crimes to survive because they are homeless. I also believe there are ways
to fix any problem and I am a certified Home Partners of America agent and I am affiliated with a curbio.com to help assist my clients who can not pay out
of pocket expense to renovate their homes to sell. I also work and am an investor agent
so I have very well-rounded knowledge of our market.
In My Free Time
I enjoy watching my programmed shows on HGTV, BRAVO, DCW, and DIY. I also like to
do water aerobics, and have family gatherings. I am a true family oriented married
woman (my babies...mean everything to me) with 3 beautiful children and 1 granddaughter. I am also a dog
and cat lover because they are part of our family as well. I am in different types of
community events to stay connected and to definitely give back.